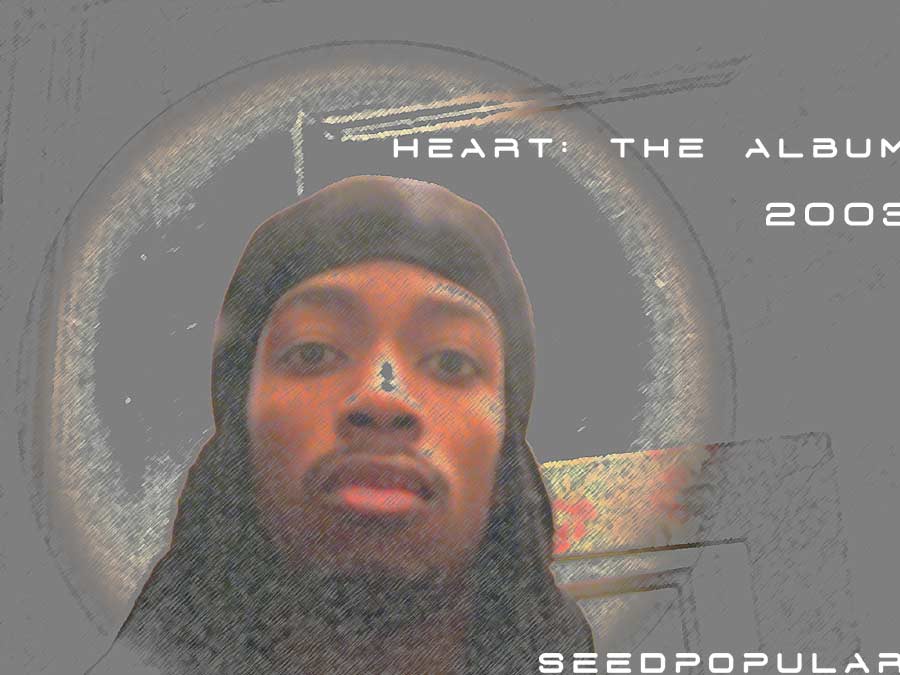 Welcome to the bootleg version of the Seed Homepage. I have personally created this site to let people know that DC Hip Hop is real and is alive in the underground circuit. On this site, I have provided links to some of the hottest names in DC Hip Hop and also links to major labels...for those who are more commercially inclined.

While you're here, I'd like you to feast your ears on two offerings which are scheduled to make the cut for the Heart album. First is the 2003 version of Main Source's "Just Hangin' Out" where Seed primarily sticks to the vocal stylings of Large Professor over a new era funk groove while paying homage to some of his DC affiliates - "Hangin' Out '03" (snippet). Seed's second offering is the self-titled introduction "SeedPoppa" (snippet) - where Seed spits braggadocio lyrics over a choppy rhythm that would make DJ Premier proud. Both cuts were self produced by Seed.


Due to a volume of emails inquiring about DC Hip-Hop, I must state that I will continue to provide useful links to DC's finest artists. As for me personally, I have relocated to Brooklyn, NYC in pursuit of more opportunities.


THIS JUST IN......... THE ALBUM: HEART IS NOW AVAILABLE FOR PURCHASE!!!! Get your copy at Mumbles Hip Hop Shop. Contact me at seedpopular@yahoo.com.


As always, I apologize for not updating my site as much as I should but I appreciate your continued support. Feel free to holla back by signing the guestbook or sending me feedback at seedpopular@yahoo.com.


Also, check out Seed @ Soundclick-- You can listen to my music and leave me feedback on the message board.


R.I.P-- Keith Cowboy (Furious Five), Charles "Mercury" Nelson (Force MD's), Antoine "T.C.D." Lundy (Force MD's), Trouble T-roy (Heavy D and the Boyz), MC Trouble, Kid Hood (Scenario RMX), Scientific, Eric "EAZY-E" Wright, Tupac "2Pac" Shakur (aka Lesane Parish Crooks), Christopher "Notorious B.I.G." Wallace, Lamont "Big L" Coleman (D.I.T.C.), Raymond "Freaky Tah" Rogers (Lost Boyz), "Bigga B" Operin, Slang Ton (Outsidaz), Fat Pat, Brandon Mitchell (Wrecks-N-Effect), Buffy (Fat Boys), Stretch (Live Squad), Khadafi (Outlawz), Seagram, Claude "BIG DOG" Austin (ROWDY), Roger Troutman (ZAPP), Phyllis Hyman, Kim Perrot (WNBA), Wilt Chamberlain (NBA), Malik Sealy (NBA), Christopher "Big Pun" Rios (Terror Squad), Yusef Afloat Muhammed (The Nonce), DJ Screw, M'Wile Baba Askari, Khalid Muhammad (New Black Panther Party), Bruce "Bankie/Chip Banks" Mayfield (American Cream Team), Marlon Brando (Sporty Thievz), DJ Threat, Poetic (Gravediggaz), Aaliyah Haugthon, Lisa "Left Eye" Lopes (TLC), Eric "Money Ray" Hoskins (Cold Crush Bros.), Jason "Jam Master Jay" Mizell (Run DMC), Merlin "Romeo" Santana (The Steve Harvey Show), Keven A. "Dino" Conner (H-Town), and my friends Filli (Amphibians/Butterfly Dragons) and Joy (everything). SO MUCH TALENT GONE TOO SOON. One.




copyright 2002-2003, Seed---Virgo/Onelife Entertainment, Inc.