Homepage to Danja Mowf, Lonnie B, and Mad Skillz of SupaFriends





Click for Head-Roc aka Young Jefferson





Click for Opus Akoben




Click for Spirit Equality




Click for the Poemcees





Click for the hardest working emcee in DC





Click for Aaron Henry





Check out the new Amphibians site





Angel Thugz...New Site..Check em out



Boondocks
Boondocks- Best Black Comic Strip





New Homepage to R&B Sensation Afi, Meridian, Kenyatta Ali, Dehejia Love and more female energies. Brought to you by Kimani Anku Prod.




ConcentratedCrates.net




DaGreatDeityDah




definedprint.com...Jihad & StylusChris


divine cipher

divinecipher.com




Homepage to WKYS's own DJ Sixth Sense




[link is currently inactive] Toni Blackman and the Freestyle Union projects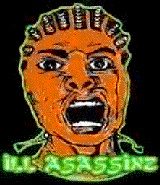 gohard.8m.com




InnerVision Ent.--Home of Interstellar and Tru Produkshunz



LaStreet Promotions




Livin' Dangerously.com




a must for all local artists





Maximum Capacity Records..Black Indian




For all genres in the DC scene




Plexus: Priest Da Nomad, Storm, Sub-Z, and Kokayi





As if you didn't already know.....haha




S.M.E.I.R.D.O.U.T is puttin it down




Infinite Loop




Unspoken Heard....Asheru




[link is currently inactive] Wicked City.....Nitebreed.com!!!




take me out to the go go




the place to go for all your go go needs